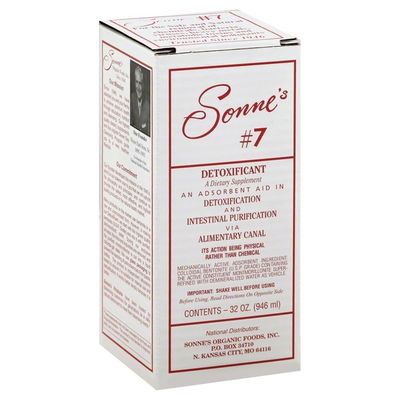 Sonne's Dietary Supplement, Adsotbrny Aid, Detoxification and Intestinal Purifcation, Box
32 oz
Details
A Dietary Supplement. An adsorbent aid in detoxification and intestinal purification via alimentary canal. Its action being physical rather than chemical. For the safe and natural removal of chemicals, bacteria, viruses, heavy metals, metabolic toxins and environmental pollutants. Trusted since 1946. Note: Since bentonite, the main ingredient in No. 7 with its active constituent, montmorillonite, has such strong adsorptive powers, its consumption could render unavailable some of the necessary nutrients, such as certain vitamins, by adsorbing them from the alimentary canal. However, independent experiments purposely designed to find out how much this adsorption would adversely affect the growth and health of experimental animals indicated no ill effects when the intake of bentonite was 25% of the total diet, but did adversely affect the health when the intake of bentonite was increased to 50% of the total diet (From Annals of the N.Y. Academy of Science, Vol. 57, page 678, May 10, 1954). Since our product is mostly water with only a small proportion of bentonite, to reach this state of toxicity it would mean projecting the results of this experiement so that a person would have to consume each day a supply designed for 1032 days. In other words, mathematically for the bentonite in our product to reach the toxic level of 50% of the diet, it would be necessary to consume a 3 year supply each day over an extended period. Since 1946. Our Mission: Since 1946, we have assisted you and your family to achieve optimum health through education, nutrition and cleansing. Our highest quality dietary supplements and the original Seven Day Cleansing Program guide you to a new, healthier lifestyle. Our founder. Victor Earl Irons, Sr. 1895-1993. Co-founder of the National Health Federation. Our Commitment: Our founder developed this mission in the 1940's, and it is our solemn vow to you that we will uphold his philosophy and principles; and continue to provide the safest, most effective, and highest quality products in the natural health market. Many products on the market use bentonite in a raw and unprocessed form. However, in making our Detoxificant, we start with the highest quality bentonite (U.S.P. Grade) and mix it with purified, demineralized water. During our exclusive process, the mica and impurities are removed, and the purified montmorillonite is put into a liquid colloidal-gel state. We use glass packaging to prevent the leaching of petrochemicals from plastic bottles. The product is independent laboratory tested to ensure it is suitable for internal use and detoxification. It works better simply because it is better. Sonne's Products have been trusted by discerning customers for generations as a safe, natural detoxicant to meet their cleansing needs. Our Sonne's Daily Cleansing Drink actively supports cardiovascular and intestinal health while removing positively-charged toxins from the body (heavy metals, bacteria, viruses, pesticides, chemicals, pollutants, and metabolic toxins). This cleansing drink is one of the key components of our original No. 20 Seven Day Cleansing Program. This drink may be used alone or in combination with our Seven Day Cleansing Program to derive the benefits of dietary fiber and calorie restrictions: weight loss/maintenance, reduced cholesterol, blood sugar and blood pressure, reduced susceptibility to disease, and a healthier life. Our products have been safely and effectively used since 1946. For more information about this product, natural health, health freedom, our 7 Day Cleansing Program, and our complete line of dietary supplements; or to share your testimonial; please contact us at: 1-800-544-8147. www.sonnes.com. (These statements have not been evaluated by the Food and Drug Administration. This product is not intended to diagnose, treat, cure, or prevent any disease).
---
Ingredients
Bentonite Clay And Purified Water.
---
Directions
Important: Shake well before using. Before using, read directions on opposite side. For use when an agent of this type is desired or indicated. Recommended Use: For average adult, 1 tablespoonful. For others, 1 teaspoonful for each 50 lb. body weight (Safe for children and pets). Take 2 doses per day. The first one in water upon rising, and the other in the evening. Drink plenty of water with this product - at least one glass of water between meals to assist elimination of acid and toxic waste through the kidneys. May be taken for a duration as long as desired. For faster detoxification, take more, more frequently. Secure cap back on bottle after use. Refrigeration is optional. Best if used by date printed on bottle. Daily Cleansing Drink: Add 1 or 2 tablespoons of Sonne's No. 7 Detoxificant into 8-10 oz of water or diluted juice. Then add one teaspoonful of Sonne's No. 9 Intestinal Cleanser (sold separately). Shake thoroughly and drink immediately.
Nutrition Facts
Serving Size
1 tablespoon
Servings Per Container
64
Amount Per Serving
Calories
Percent Daily Values are based on a 2,000 calorie diet.
Why Instacart?
Instacart delivers fresh groceries
Great Prices, from multiple stores
All your favorite local stores
Personal shoppers pick all the highest quality items for you
Delivered in as little as 2 hours
Why Instacart?
Instacart delivers fresh groceries
Great Prices, from multiple stores
All your favorite local stores
Personal shoppers pick all the highest quality items for you
Delivered in as little as 2 hours