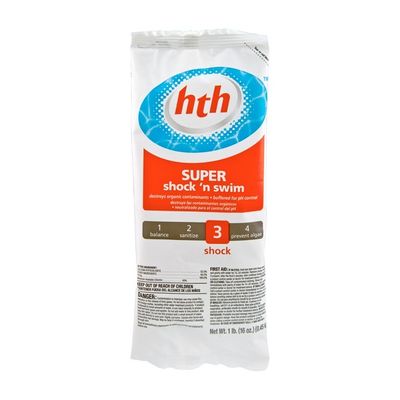 HTH 3 Super Shock 'n Swim
16 oz
Details
HTH 3 Super Shock 'n Swim.
Destroys organic contaminants.
Buffered for pH control.
1 balance.
2 sanitize.
3 shock.
4 prevent algae.
---
Ingredients
Active Ingredients:
Calcium Hypochlorite - 52.0%.
Other Ingredients - 48.0%.
Total - 100.0%.
Minimum Available Chorine - 49%.
---
Directions
Why you should use this product: this is a highly effective, multi-purpose product that sanitizes, helps prevent algae and shock treats your pool. It is convenient, easy to use, and won't over-stabilize your pool. For crystal clean clear pool water, follow our 4 step pool care program:
Step 1: test and balance pool water.
Step 2: sanitize.
Step 3: shock at least once a week, and
Step 4: add algaecide as directed.
Directions for use: it is a violation of federal law to use this product in a manner inconsistent with its labeling.
Read all precautionary statements before use.
Method of application. How to use: do not pre-mix this product. Only add this product directly to your pool or skimmer. Use entire contents when opened.
Method for dosing directly into pool: add the recommended dosage of this product during evening hours while the filter pump is running. When adding this product to your pool, broadcast the product evenly over a wide area in the deepest part of the pool. If any granules settle to the bottom of the pool use brush to disperse.
Method for skimmer addition: make sure that filter pump is on and properly recirculating through skimmer. Empty skimmer of all chemicals and/or debris.
Contamination may cause an explosion or the release of toxic gases. Do not use this method when an automatic chemical dispensing device (e.g. feeder) is present. Pour this product slowly into skimmer, making sure that the material is drawn into the system at the same rate: do not allow this material to accumulate as toxic gases may be generated.
Pool shock treatment: add the recommended dosages of this product while the filter pump is running. See "method of application". When adding this product to your pool, broadcast the product evenly over a wide area in the deepest part of the pool.
Dosage rate: adjust and maintain pH to 7.2 - 7.4 with Hth?? pH Plus?? or Hth pH minus.
Follow label directions. Add 1 lb. (16 oz.) of this product per 12,000 gallons of water weekly to help prevent pool problems. Additional shock treatments may be required to correct problems which are caused by: visible algae. High bathing loads, heavy wind and rainstorms. Additional shock treatments will also remove unpleasant odors and eye irritation. Do not re-enter pool until the free available chlorine residual is 1 - 4 ppm. Shock treats your pool when opening, then weekly to prevent pool problems.
Algae control:
If the sides or bottom of your pool develop algae spots, direct this product as close to the algae as possible. Follow "pool shock treatment" directions.
Note:
Prolonged contact with pool surfaces may cause staining or bleaching. Immediately after treatment thoroughly clean pool by brushing surface of algae growth, vacuum and cycle through filter. If necessary, repeat the treatment. Pool should not be entered until the chlorine residual is 1 to 4 ppm.
Opening your pool:
Follow "pool shock treatment" directions. Allow 30 minutes for product to disperse and test chlorine residual with a pool test kit. Repeat dosage, as needed, until chlorine residual is 1 to 4 ppm.
Water balance: for best product performance, swimmer comfort and crystal clear water, use Hth pool care products to maintain the following water balance:
Acceptable range for balance:
PH 7.2-7.6.
Total alkalinity 60-120 ppm.
Calcium hardness above 200 ppm.
Available chlorine 1-4 ppm.
Follow label directions for each product and allow each product to dissolve and disperse before adding additional products to the pool. Use a reliable test kit that measures all these ranges.
Why Instacart?
Instacart delivers fresh groceries
Great Prices, from multiple stores
All your favorite local stores
Personal shoppers pick all the highest quality items for you
Delivered in as little as 2 hours
Why Instacart?
Instacart delivers fresh groceries
Great Prices, from multiple stores
All your favorite local stores
Personal shoppers pick all the highest quality items for you
Delivered in as little as 2 hours