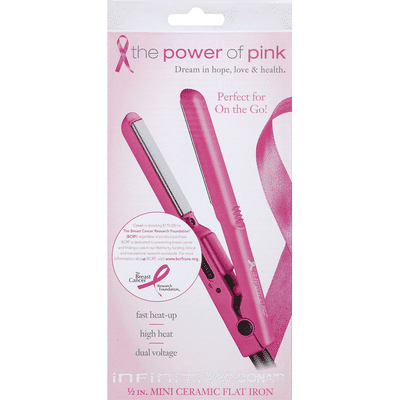 Conair Flat Iron, Mini Ceramic, 0.5 Inch
1 each
Details
Model CS80RBCR. The power of pink. Dream in hope, love & health. Perfect for on the go! Conair is donating $110,000 to The Breast Cancer Research Foundation (BCRF) regardless of product purchase. BCRF is dedicated to preventing breast cancer and finding a cure in our lifetime by funding clinical and translational research worldwide. For more information about BCRF, visit www.bcrfcure.org. The Breast Cancer Research Foundation. Fast heat-up. High heat. Dual voltage. The Breast Cancer Research Foundation is dedicated to preventing breast cancer & finding a cure in our lifetime by funding clinical & translational research worldwide. For more information, visit bcrfcure.org or call toll-free 1.866.find.a.cure. Ceramic Technology: Plates glide across hair easily, distributing heat evenly for silky-smooth hair. Eliminates damaging hot spots. Adds shine while reducing frizz. On/off settings. Power on indicator light. Limited two year warranty. ETL listed - Intertek. For info on any Conair or Infinity by Conair product call: 1-800-3-Conair or visit us on the web at: www.conair.com. Made in China.
---
Warnings
Caution: Never allow the power supply cord to be pulled, twisted, or severely bent. Never wrap the cord tightly around the appliance. Damage will occur at the high flex point of entry into the appliance, causing it to rupture and short circuit. Inspect the cord frequently for damage. Stop use immediately if damage is visible or if unit stops or operates intermittently. If you think the power is off when the switch is off, you're wrong. Keep away from water. Always unplug small appliances. Important safety Instructions: When using electrical appliances, especially when children are present, basic safety precautions should always be followed, including the following: Danger - Any appliance is electrically live even when the switch is off. To reduce the risk of death by electric shock: 1. Always unplug appliance immediately after using. 2. Do not use while bathing or in a shower. 3. Do not place or store appliance where it can fall or be pulled into a tub or sink. 4. Do not place in, or drop into water or other liquids. 5. If an appliance falls into water, unplug it immediately. Do not reach into the water. To reduce the risk of burns, electrocution, fire, or injury to persons: 1. This appliance should never be left unattended when plugged in. 2. This appliance should not be used by, on, or near children or individuals with certain disabilities. 3. Use this appliance only for its intended use as described in this manual. Do not use attachments not recommended by the manufacturer. 4. Do not use an extension cord to operate appliance. 5. Never operate this appliance if it has a damaged cord or plug, if it is not working properly, if it has been dropped or damaged, or dropped into water. Return the appliance to an authorized service center for examination and repair. 6. Keep the cord away from heated surfaces. 7. Do not pull, twist, or wrap line cord around appliance, even during storage. 8. Never block the air openings of the appliance or place it on a soft surface, such as a bed or couch, where the air openings may be blocked. Keep the air openings free of lint, hair, and the like. 9. Never use while sleeping. 10. Never drop or insert any object into any opening. 11. Do not use outdoors or operate where aerosol (spray) products are being used or where oxygen is being administered. 12. This straightener is hot when in use. Do not let heated surfaces touch eyes or bare skin. 13. Do not place the heated flat iron directly on any surface or on the appliance power cord while it is hot or plugged in. 14. Before plugging in read the information about dual voltage contained in the instruction section of this manual. 15. Do not attempt to touch the housing of your appliance near the straightening plates as it is hot when in use. 16. Do not touch hot surfaces of the appliance. Use the handles or knobs. 17. Do not use with a voltage converter. The flat iron's ceramic-coated plates will get very hot within a few seconds and should not come into contact with the skin after the flat iron has been turned on.
---
Directions
User maintenance:
Your flat iron is virtually maintenance free. No lubrication is needed. Keep all vents and openings clear or dirt and dust. If cleaning becomes necessary, disconnect the unit from the power source, allow to cool and wipe exterior with a cloth. If any abnormal condition occurs, unplug the unit, allow it to cool, and return it for repair to an authorized service representative only. No repairs should be attempted by the consumer.
Storage:
When not in use, your appliance is easy to store. Allow appliance to cool, then store out of reach of children in a safe, dry location. Do not jerk or strain cord at plug connections. Do not wrap cord tightly around the appliance. Allow the cord to hang or lie loose and straight at the point of entry into the appliance.
Operating Instructions:
This flat iron is intended for household use. This unit is designed to operate at
120–240 volts AC. Use on alternating current (50/60 hertz) only.
This appliance has a polarized plug (one blade is wider than the other). As a safety feature, this plug will fit in a polarized outlet only one way. If the plug does not fit fully in the outlet, reverse the plug. If it still does not fit, contact
a qualified electrician. Do not attempt to defeat this safety feature.
Dual voltage:
This flat iron will automatically adjust to the proper voltage. Use an adapter plug with correct configuration, prior to use in outlet.
Straightening Basics:
Plug the flat iron cord into any household outlet 120V–240V. Slide switch to on position. Red led light will indicate power is on. The flat iron will heat up very quickly. To turn off, slide to off position. Red light will go off. Never leave your flat iron on and unattended.
Start with a hair section that is 1 in. wide and no more than 1/2 in. thick. Open the iron and place a hair section between the two hot plates, close to the scalp. Close plates over hair by firmly squeezing the handles together. While maintaining the tension, slowly pull the unit down along the hair section toward the ends. At the end of hair section, release the pressure on the handle and allow the hair to slide out. Repeat process on additional sections of hair until you achieve the hair style you desire. It may be necessary to repeat process on certain areas, depending on the texture of your hair.
Why Instacart?
Instacart delivers fresh groceries
Great Prices, from multiple stores
All your favorite local stores
Personal shoppers pick all the highest quality items for you
Delivered in as little as 2 hours
Why Instacart?
Instacart delivers fresh groceries
Great Prices, from multiple stores
All your favorite local stores
Personal shoppers pick all the highest quality items for you
Delivered in as little as 2 hours