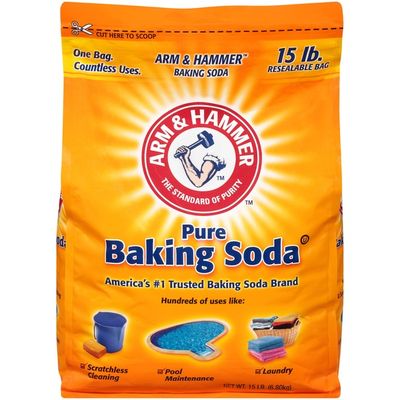 Arm & Hammer Pure Baking Soda
15 lb
Delivery by 5:20pm
Details
Discover the secret of ARM & HAMMER Baking Soda, the simple solution for a clean and fresh home. Baking soda is the most versatile product in your home and ARM & HAMMER is the most recognized brand. You know that Baking soda is great for cooking and baking. Now, discover more than 100 ways to save time and money with Baking Soda, from cleaning your carpets to getting rid of pet odors, making laundry sparkle, creating inexpensive craft for kids, and even enjoying a spa-worthy pedicure. Whether you need a quick solution for mopping dirty kitchen floors, a non-abrasive way to scrub bathroom countertops, or a chemical-free way to clean toys, furniture, pots and pans, we've got tips to make every room in your home shine and smell fresh. Put ARM & HAMMER to work all around your home! With its natural pure and gentle cleaning power, there isn't a place in your home where dirt and odors are safe.
---
Ingredients
Ingredient: Sodium Bicarbonate
---
Warnings
Ask a doctor before use if you have a sodium restricted diet. Ask a doctor or pharmacist before use if you are taking a prescription drug. Antacids may interact with certain prescription drugs. Do not administer to children under age 5. STOMACH WARNING: TO AVOID SERIOUS INJURY, DO NOT TAKE UNTIL POWDER IS COMPLETELY DISSOLVED. IT IS VERY IMPORTANT NOT TO TAKE THIS PRODUCT WHEN OVERLY FULL FROM FOOD OR DRINK. Consult a doctor if severe stomach pain occurs after taking this product. Stop use and ask a doctor if symptoms last more than 2 weeks.
---
Directions
Directions• add 1/2 teaspoon to 1/2 glass (4 fl. oz.) of water every 2 hours, or as directed by physician. Dissolve completely in water. Accurately measure 1/2 teaspoon.do not take more than the following amounts in 24 hours:• seven 1/2 teaspoons• three 1/2 teaspoons if you are over 60 years • do not use the maximum dosage for more than 2 weeks. Other Information• each 1/2 teaspoon contains 616mg sodium. How to UseFor Those Who Monitor Both pH and AlkalinityPool professionals advise that Baking Soda (sodium bicarbonate) be used to provide alkalinity (proper range 80–100ppm), and that alkalinity and pH be controlled independently.Every week during the season, measure the alkalinity and add ARM & HAMMER Baking Soda as indicated:If Alkalinity is 20 ppm add 12 lbs. per 10,000 gallons of water.If Alkalinity is 40 ppm add 9 lbs. per 10,000 gallons of water.If Alkalinity is 60 ppm add 6 lbs. per 10,000 gallons of water.If Alkalinity is 80 ppm add 3 lbs. per 10,000 gallons of water.If Alkalinity is 110 ppm or higher don't add Baking Soda.By controlling alkalinity at the proper range of 80–100 ppm, the pH will usually stabilize in its desired range. However, occasional pH adjustment may be necessary. Therefore, pH should be measured every week. If pH is high, add sodium bisulfate or acid in moderation to reduce pH. If pH is low, but the alkalinity is in the proper range, don't add baking soda ( For Scratchless CleaningScrubs away stains and grease without scratching.• Sinks• Bathtubs• Counters• Microwaves• Ovens• Pots & Pans• Refrigerators• Stainless Steel For Fresher, Cleaner ClothesImproves your laundry performance.• Add 1 cup with liquid laundry detergent for cleaner, fresher clothes For Sparkling Clear Pool Water• Simple and easy to use.• Helps reduce eye irritation and burning.• Helps keep water sparkling clear.How It WorksARM & HAMMER™ Baking Soda will help maintain the pH of the water in your swimming pool in the desired range and provide necessary alkalinity. Recommended pH control by ARM & HAMMER™ Baking Soda and a disinfecting agent will keep your pool water sparkling clear, and your eyes from burning. For Household DeodorizingAbsorbs and eliminates odors on contact.• Garbage Pails• Litter Boxes • Carpets• Disposals & Drains• Dishwasher (between uses) For Baking• Use to make best tasting cookies and cakes How to UseFor Those Who Monitor pH ONLYEvery week during the swimming pool season, measure the pH and add ARM & HAMMER™ Baking Soda as indicated:If pH is Less than 7.2 add 3–4 lbs. per 10,000 gallons of water.If pH is between 7.2–7.5  add 2bls. per 10,000 gallons of water.If pH is above 7.5. don't add baking soda.To prevent clouding, especially in hard water areas (250ppm or more) or when using a calcium chlorinating agent, keep the pH below 7.8 by adding sodium bisulfate or acid if necessary. Points to Remember1. Regularly check disinfectant level, and add disinfecting agent as recommended by the manufacturer.2. For further information about pool chemistry, contact your local pool professional and send for the following booklet, enclosing a samped, self-addressed 6" x 9" size envelop to:**POOLSARM & HAMMERChurch & Dwight Co., Inc. P.O. Box 7468, Princeton, NJ 08543**Except in CaliforniaCalif. Reg. No 10509986-50001-AA
Nutrition Facts
Serving Size 600.0 mg
Servings Per Container 11333.0
Amount Per Serving
Calories 0
% Daily Value

Total Carbohydrate 0g

0%

Sugars 0g
Percent Daily Values are based on a 2,000 calorie diet.
Why Instacart?
Instacart delivers fresh groceries
Great Prices, from multiple stores
All your favorite local stores
Personal shoppers pick all the highest quality items for you
Delivered in as little as 2 hours
Why Instacart?
Instacart delivers fresh groceries
Great Prices, from multiple stores
All your favorite local stores
Personal shoppers pick all the highest quality items for you
Delivered in as little as 2 hours