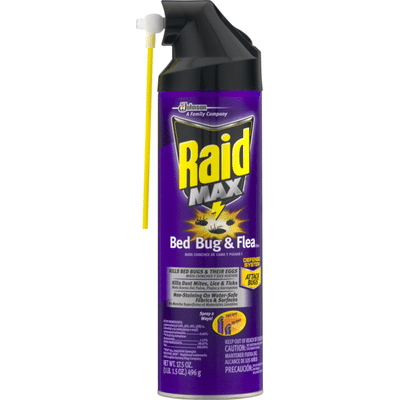 Raid Max Bed Bug & Flea Spray
17 fl oz
Details
Raid Max Bed Bug & Flea Killer kills fleas, bed bugs, and their eggs. It sprays two ways with targeted application for hard–to-reach areas and wide coverage for larger surfaces. This formula is non-staining on water-safe fabrics and surfaces.
---
Ingredients
Active ingredients:
3-Phenoxybenzyl-(1RS, 3RS, 1RS, 3SR)-2, 2-Dimethyl-3-(2-Methylprop-1-Enyl).
Cyclopropanecarboxylate - 0.40%.
**N-Octyl Bicycloheptene Dicarboximide - 1.53%.
Other ingredients: - 98.07%.
Total - 100.00%.
---
Warnings
Keep out of reach of children. Caution: see additional precautionary statements on back. Precautionary statements: hazards to humans and domestic animals: Caution: harmful if absorbed through skin. Avoid contact with skin, eyes, or clothing. Wash hands thoroughly with soap and water after handling and before eating, drinking, chewing gum, using tobacco, and before using the toilet. Remove and wash contaminated clothing before reuse. First aid: If on skin or clothing: take off contaminated clothing. Rinse skin immediately with plenty of water for 15-20 minutes. Call a poison control center or doctor for treatment advice. Have the product container or label with you when calling a poison control center or doctor, or going for treatment. For additional information on this product including health concerns, medical emergencies or pesticide incidents, you may call 1-800-558-5252. Physical or chemical hazards: flammable. Contents under pressure. Do not use or store near heat or open flame. Do not puncture or incinerate container. Exposure to temperatures above 130 degrees F may cause bursting. Do not apply this product around electrical equipment due to the possibility of shock hazard.
---
Directions
Tips:
Early detection is critical to solving bed bug problems.
Look for bed bugs in tufts and seams of mattresses, behind the headboard and in cracks and crevices of the bed frame.
If you see signs of bed bugs, wash linens, blankets and bed covers in hot water. Dry using the high heat setting.
Vacuum carpet around the bed and any furniture suspected to be infested. Remove as many bed bugs and eggs as possible.
Repeat applications may be needed over the next 2 months.
Directions for use:
It is a violation of Federal law to use this product in a manner inconsistent with its labeling.
User restrictions: this product is for indoor residential use only. This product is not for use on humans. If lice infestation should occur on humans, use a product labeled for use on humans. Do not apply this product in a manner that will contact adults, children, or pets either directly or through drift. Remove or cover exposed food and drinking water before application. Remove pets, birds, cover fish aquariums, and turn aquarium systems off before spraying. Do not allow adults, children, or pets to enter the treated area until sprays have dried. Do not use treated article until spray has dried. Do not apply more than one time per day.
Shake well before each use.
Hold container upright. Do not spray into air. Apply to surfaces only. Use in well ventilated areas. Spray an inconspicuous area first to test for possible staining. Hold can about 8 to 10" from surface being sprayed. Point spray opening toward surface and press button firmly. Spray each square foot for about 5 seconds, or until surfaces are damp. Avoid excessive wetting. Do not wet surfaces or articles to the point of runoff or drip. Vacate room after treatment and ventilate before reoccupying. Wait for surfaces to dry and wash articles or bedding before use. To kill bed bugs: using the applicator tip, spray mattress and box spring seams, edges and tufts as a spot treatment where bed bugs hide. Hit as many bugs as possible. Spray into cracks and crevices of the headboard, bed frame, surrounding baseboards, flooring, wall hangings, dressers and furniture. With tip down, apply as a surface spray to larger areas like bottoms of mattresses and box springs, carpets around beds, floor and floor coverings, under and in furniture, luggage, garments, closets and drapes. Thoroughly clean, vacuum and air-out mattresses and box springs. To kill bed bug eggs: using the applicator tip, spray mattress and box spring seams, edges, tufts, cracks and crevices around headboards and bed frames. With tip down, spray each square foot for about 13 seconds or until these surfaces are damp. To kill lice: spray only those garments, parts of bedding, including mattresses and furniture that cannot be either laundered or dry-cleaned. This product is not for use on humans. If lice infestation should occur on humans, use a product labeled for use on humans. To kill fleas and ticks: spray areas where dogs and cats sleep and around baseboards, windows, door frames, wall cracks and floors. Spray around beds, furniture and dogs and cats habitat. Spray sleeping areas, bedding, floor and floor coverings where dogs and cats are kept. Use only a recommended pet spray on dogs and cats. This product is not for use on pets. To kill dust mites: thoroughly vacuum entire room concentrating on areas where dust mites congregate such as mattresses, box springs, headboards, walls, floors, carpeting, and baseboards. Spray surfaces until damp. To kill clothes moths and carpet beetles: apply as a spot treatment to cracks and crevices around baseboards, floorboards, furniture and the edges of carpet. Apply as a surface spray to carpets, rugs, closets, baseboards, furniture, floors and floor coverings. For carpets and rugs, get the spray down into the base where the larvae are feeding. Spray upper and lower surfaces where possible.
Storage and disposal:
Pesticide storage: protect from freezing. Always store this product in the original container away from heat or open flame. Store in a cool, dry place that is inaccessible to children and animals. Container disposal: do not puncture or incinerate! If empty: this container may be recycled. Before offering for recycling, empty the container by using the product according to the label. If recycling is not available, place in trash. If partially filled: call your local solid waste agency or 1-800-529-3394 for disposal instructions. Never place unused product down any indoor or outdoor drain.
Why Instacart?
Instacart delivers fresh groceries
Great Prices, from multiple stores
All your favorite local stores
Personal shoppers pick all the highest quality items for you
Delivered in as little as 2 hours
Why Instacart?
Instacart delivers fresh groceries
Great Prices, from multiple stores
All your favorite local stores
Personal shoppers pick all the highest quality items for you
Delivered in as little as 2 hours