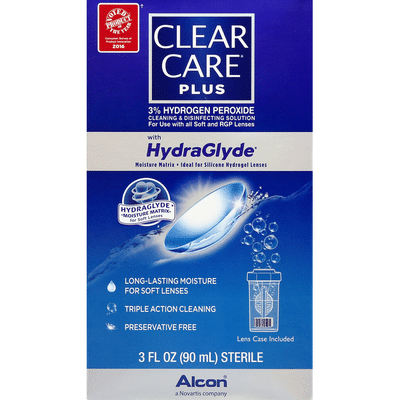 CLEAR CARE Cleaning & Disinfecting Solution, Plus
3 oz
Details
For use with all soft and RGP lenses. Sterile. 3% hydrogen peroxide. Free lens case included. With HydraGlyde. Moisture matrix. Ideal for silicone hydrogel lenses. New. HydraGlyde moisture matrix for soft lenses. Long-lasting moisture for soft lenses. Triple action cleaning. Preservative free. Watch the bubbles go to work! Fresh Lens Feeling for Soft Lenses: Clear Care Plus is a convenient and highly effective hydrogen peroxide based system with exclusive moisture technology for soft contact lenses. Clear Care Plus provides simultaneous cleaning, daily protein removal and disinfection of all types of contact lenses, including soft (hydrophilic), silicone hydrogel, and rigid gas permeable lenses. Alcon's Guarantee: The performance of this product is guaranteed. If you are not satisfied with this product for any reason, return the unused portion to Alcon Laboratories for a full refund. For more information regarding this product consult your eye care professional, or write to: Alcon Laboratories, Inc., 6201 South Freeway, Fort Worth, Texas 76134. Call us toll free at 1-800-757-9195. Our patented triple action cleaning formula deeply cleans and kills bacteria while carrying away dirt and debris by attaching to deposits and lifting them away. The exclusive HydraGlyde moisture matrix is primarily designed for wetting and lubricating silicone hydrogel lenses. It surrounds soft lenses in long-lasting moisture for extra hydration. No store brand of this formula available. What's Inside Makes the Difference in Clean: Clear Care Plus Features: 3% hydrogen peroxide kills germs & bacteria; Benefits: Helps prevent serious eye infections and deep cleans your lenses to remove protein build-up and debris. Clear Care Plus lens case & disc neutralizes the hydrogen peroxide; Benefits: Creates a gentle saline solution close to your own tears, so no harsh chemicals or preservatives enter your eyes. Pluronic 17R4 built in cleaner; Benefits: Convenient one-step cleaning without rubbing to help provide clean, comfortable lenses. Exclusive HydraGlyde Moisture Matrix technology especially for silicone hydrogel soft lenses; Benefits: Reconditions soft lenses and surrounds them with long-lasting moisture for extra hydration. Adds extra lubrication for silicone hydrogel soft lenses. Please visit: www.clearcare.com. Look for Clear Care on: Facebook; Twitter; YouTube.
---
Ingredients
Contents: Clear Care Plus Cleaning & Disinfecting Solution (Clear Care Plus) is a Sterile Solution Containing Micro-Filtered Hydrogen Peroxide (3%), Sodium Chloride (0.79%), Stabilized with Phosphonic Acid, a Phosphate Buffered System, Pluronic 17R4 (a Cleaning Agent), and Hydraglyde Moisture Matrix (Eobo-21 - Polyoxyethylene-Polyoxybutylene, Especially for Silicone Hydrogel Soft Lenses).
---
Warnings
Contraindications (Reasons not to use): Do not use if you are allergic to any of the ingredients. Tamper evident: Do not use if safety seal around the bottle cap is broken or missing or if the bottle or lens case is damaged. Keep Clear Care* Plus out of reach of children. Not for direct use on eye: If non-neutralized Clear Care* Plus gets into your eyes it will cause burning and stinging. Remove your contact lenses immediately and flush eyes with a large amount of water or sterile saline. Seek immediate assistance from an eye care professional. Never put non-neutralized Clear Care* Plus directly into your eye. Never rinse your contact lenses with Clear Care* Plus before you put them in your eyes. If you want to rinse your lenses, use sterile saline. Do not use a flat lens case. Only use Clear Care* Plus with the special lens case provided. Do not remove lenses from the lens case for at least 6 hours. The solution needs time to neutralize.
---
Directions
Essential Steps for Cleaning and Disinfection: To ensure proper cleaning and disinfection of your lenses you must follow the instructions completely. Do not skip any steps. Always wash, rinse and dry your hands before handling your lenses. 1. Remove and place each lens into the appropriately marked L/R domed lens holder. Thoroughly rinse with Clear Care Plus for 5 seconds. 2. Fill the Clear Care Plus lens cup to the fill line with Clear Care Plus and place the lens holder in the lens cup. Do not underfill or overfill. 3. Tighten the cap on the Clear Care Plus lens cup and store lenses for at least 6 hours. Do not shake the case. Your lenses are ready to wear after soaking for at least 6 hours. Always use the new lens case provided with each new purchase of Clear Care Plus. Dispose of your old lens case. Always follow your eye care professional's instructions. Please refer to the package insert printed on the inside of this carton for detailed directions and important safety information. Keep Clear Care Plus out of reach of children. Store at room temperature. Once bottle is opened, discard any remaining solution after 3 months of first opening.
Why Instacart?
Instacart delivers fresh groceries
Great Prices, from multiple stores
All your favorite local stores
Personal shoppers pick all the highest quality items for you
Delivered in as little as 2 hours
Why Instacart?
Instacart delivers fresh groceries
Great Prices, from multiple stores
All your favorite local stores
Personal shoppers pick all the highest quality items for you
Delivered in as little as 2 hours