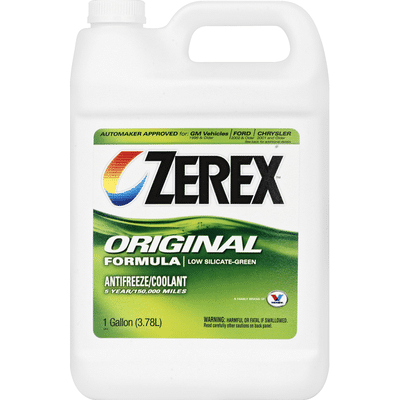 Zerex Antifreeze/Coolant, Original Formula, Low Silicate-Green
1 gal
Details
5 year/150,000 miles. Automaker approved for: GM vehicles 1996 & older; Ford 2002 & older; Chrysler 2001 and older. See back for additional details. A family brand of Valvoline. Zerex Original Green Antifreeze Coolant provides excellent protection against freeze. boil, rust, corrosion and premature water pump failure in vehicles requiring traditional green chemistry. Zerex Original Green Antifreeze Coolant: Prevents cold weather freeze-ups and hot weather boil-overs. Low-silicate formula is ideal for heavy duty applications. Prevents rust and corrosion. Provides protection for all cooling system metals, including aluminum. Zerex Original Green is Automaker approved for use in: General Motors 1996 & older model years; Chrysler 2001 & older model years; Ford (trademark owned by third party) SUVs and trucks 2001 & older model years; Ford passenger cars 2002 & older model years. Zerex Original Green Antifreeze Coolant meets or exceeds the following industry and engine specifications: GM 1825M, GM 1899M, Ford ESE-M97B44-A, Chrysler MS 7170, ASTM D3306 & D4985, SAE J1034, J814C, and J1941, TMC OF ATA RP-302 B, Cummins (trademark owned by third party) 90T8-4, Detroit Diesel (trademark owned by third party) 7SE298, and Federal Specification A-A-870A. Read carefully other cautions on back panel. Temperature Range Chart: 5 Quarts (50%) Zerex/5 Quarts (50%) Water: -34 degrees F freeze-up; 265 degrees F boil-over. 7 Quarts (70%) Zerex/3 Quarts (30%) Water: -84 degrees F freeze-up; 276 degrees F boil-over. Above chart based on using a 15 PSI radiator cap. Valvoline, American owned & operated. Made in USA.
---
Ingredients
Contains: Ethylene Glycol (107-21-1), Diethylene Glycol (111-46-6), Water (7732-18-5), Corrosion Inhibitors, Defoamers, Dye, and Bittering Agent.
---
Warnings
Harmful or fatal if swallowed. Do not remove radiator cap when engine is hot. Harmful or fatal if swallowed, may cause eye and skin irritation. Do not taste or swallow. Do not store antifreeze in an open or unmarked container. Avoid inhaling mist or hot vapors. Keep out of the reach of children and pets. First Aid: In case of contact, flush eyes and skin with plenty of water. Call a physician if irritation develops and persists. If swallowed, do not induce vomiting unless directed to do so by medical personnel. Call a physician immediately. See MSDS for additional information. 24 Hour Emergency: 1-800-274-5263.
---
Directions
See owners manual for special cooling system service instructions. 1. Drain: Allow engine to cool completely. Remove radiator cap. Drain radiator of existing fluid into a suitable receptacle following manufacturer's guidelines. Once coolant has drained from the radiator, close the drain plug. 2. Flush: Prior to refilling, consider using a quality radiator flush/cleaner like Zerex Super Flush to flush cooling system. Flushing removes additional loose debris and helps dean the engine block. 3. Fill: Check owners manual for cooling system capacity. Refill with 50% Zerex Original Green Antifreeze Coolant and 50% water. Maximum concentration is 70% Zerex Original Green Antifreeze Coolant and 30% water. Do not exceed a 70% Zerex Coolant mixture. Start vehicle, turn heater to high and allow it to run with the radiator cap removed until the system reaches normal operating temperature. Let vehicle run for 10 minutes with the heater on once the heater is producing heat Carefully check coolant level. Top off as necessary. Replace radiator cap and tighten. Shut off engine. 4. Maintain: Periodically check radiator and reservoir levels. Top-off the system as needed with Zerex Original 50/50 Ready-to-Use Antifreeze Coolant Check the freeze protection, -34 degrees F protection is recommended. Inspect the cooling system for leaks. Always consult owner's manual for specific maintenance and change over intervals recommended for your vehicle's cooling system. When Disposing of Used Antifreeze/Coolant: Follow local laws and regulations. If required, dispose at facilities licensed to accept household hazardous waste. If permitted, dispose in sanitary sewer systems. Do not discard into storm sewers, septic systems, or onto the ground.
Popular brands
Why Instacart?
Instacart delivers fresh groceries
Great Prices, from multiple stores
All your favorite local stores
Personal shoppers pick all the highest quality items for you
Delivered in as little as 2 hours
Why Instacart?
Instacart delivers fresh groceries
Great Prices, from multiple stores
All your favorite local stores
Personal shoppers pick all the highest quality items for you
Delivered in as little as 2 hours