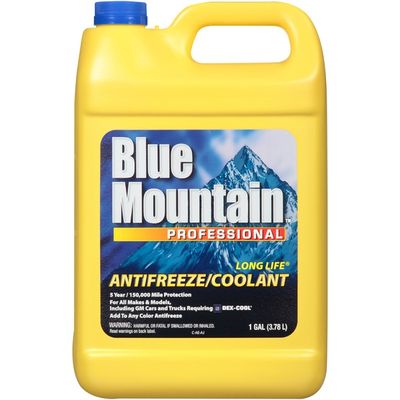 Mountain Country Long Life Antifreeze & Coolant
1 gal
Details
5-year/150,000-mile protection. For all makes & models, including GM cars and trucks requiring GM Dex-Cool®. Add to any color antifreeze.
Blue Mountain™ Professional Long Life® Antifreeze & Coolant features an advanced coolant technology that is compatible for use in all automobiles and light duty trucks, regardless of make, model, year or original antifreeze color. Its inhibitors provide maximum cooling system protection against damaging rust and corrosion. Blue Mountain Professional Long Life Antifreeze & Coolant, when mixed 50/50 with water, can be used to top-off cooling systems filled with any automotive antifreeze. However, to realize the 150,000 miles or 5 years of maximum cooling system protection provided by Blue Mountain Long Life Antifreeze & Coolant, a complete cooling system flush and fill is required*.
Meets the performance requirements of GM6277M (Dex-Cool®). Meets ASTM D-3306 and ASTM D-4340 for corrosion protection. Meets the silicate-free requirements of Japanese OEMs. Meets the phosphate-free requirements of European OEMs.
---
Ingredients
Ethylene Glycol (107-21-1), Diethylene Glycol (111-46-6), Water (7732-18-5), NJTSRN QT1.
---
Warnings
Contains ethylene glycol. Harmful or fatal if swallowed or inhaled. Do not drink antifreeze or solution. If swallowed, do not induce vomiting. Immediately contact a Poison Control Center or physician. Avoid inhaling mist or hot vapors. If inhaled, remove to fresh air. Do not reuse container. Do not let stand or store in open or unlabeled containers. Wash thoroughly after handling. Solution can be poisonous to animals. Keep out of reach of children. Do not remove radiator cap when engine is hot. Check owner's manual for specified maintenance and change intervals.
---
Directions
Directions: Top-Off Instructions: Remove radiator cap when engine is cool. Top off radiator and fill reservoir with a 50/50 mix of antifreeze/coolant and water. Check fluid level periodically. Check owner's manual for any other recommendations for antifreeze usage. Flush and Fill Instructions: 1. Drain radiator. Fill with fresh water. Flush cooling system for 10 minutes with engine running and heater on high. 2. Let engine cool, drain radiator. 3. Check owner's manual for cooling system capacity. Fill with enough new coolant to achieve a 50/50 antifreeze/water ratio. 4. Run engine for 10 minutes with heater on high. when engine has cooled, check freeze protection with an antifreeze tester. Add more antifreeze or water to radiator as necessary to achieve desired freeze protection. 5. Periodically check radiator and reservoir levels. Top off with a 50/50 mixture of Blue Mountain Professional Long Life Antifreeze/Coolant and water as needed.
Why Instacart?
Instacart delivers fresh groceries
Great Prices, from multiple stores
All your favorite local stores
Personal shoppers pick all the highest quality items for you
Delivered in as little as 2 hours
Why Instacart?
Instacart delivers fresh groceries
Great Prices, from multiple stores
All your favorite local stores
Personal shoppers pick all the highest quality items for you
Delivered in as little as 2 hours