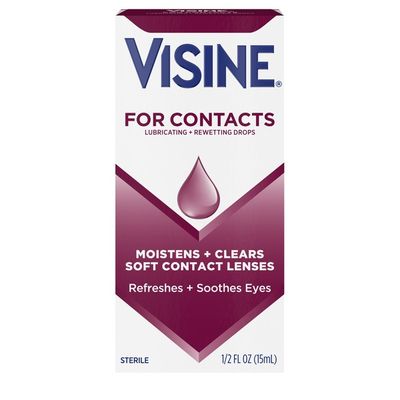 VISINE For Contacts Lubricating + Rewetting Drops
0.5 fl oz
Delivery by 2:35pm
Details
Refresh eyes while wearing daily and extended-wear (hydrophilic) soft contact lenses with Visine For Contacts Lubricating + Rewetting Drops. This sterile solution refreshes eyes, moistens your lenses and helps remove particulate matter, which can cause eye irritation and discomfort. Visine For Contacts drops use a thimerosal-free lubricating eye drops formula. Use these contact Lubricant drops as recommended by your eye care practitioner. The small 0.5-fluid ounce bottle easily slips into a bag or purse, so you can refresh your eyes anywhere.
• 0.5-fl. oz bottle of Visine For Contacts Lubricating + Rewetting Drops
• This contact Lubricant benefits eyes and moistens soft contact lenses
• Refresh eyes and moisten daily and soft contact lenses with this lubricating formula
• These thimerosal-free lubricating eye drops help refresh and soothe eyes
• For use with daily and extended-wear soft contact lenses as contact rewetting drops
• Moistens and clears soft contact lenses by helping to remove particulate matter
• The conveniently-sized bottle easily fits in a bag or purse, so you can refresh your eyes anywhere
• Use these lens-clearing & lubricating eye drops as needed throughout the day while wearing lenses
---
Ingredients
A Sterile Isotonic Solution With A Borate Buffer System, Hypromellose And Glycerin, With Potassium Sorbate And Edetate Disodium As The Preservatives.
---
Warnings
To avoid contamination, do not touch tip of container to any surface. Replace cap after using.
See package insert printed on the side of carton for complete direction for use and important safety information.
Do not use if VISINE® importuned neckband on bottle is broken or missing.
Reasons Not To Use: Patients allergic to any ingredients in VISINE® FOR CONTACTS Lubricating + Rewetting Drops should not use this product.
PROBLEMS WITH CONTACT LENSES AND LENS CARE PRODUCTS COULD RESULT IN SERIOUS INJURY TO THE EYE. It is essential that you follow your eye care professional's direction and all labeling instructions for proper use of your lenses and lens care products.
EYE PROBLEMS, INCLUDING CORNEAL ULCERS, CAN DEVELOP RAPIDLY AND LEAD TO LOSS OF VISION; THEREFORE, IF YOU EXPERIENCE EYE DISCOMFORT, EXCESSIVE TEARING, VISION CHANGES, REDNESS OF THE EYE, IMMEDIATELY REMOVE YOUR LENSES AND PROMPTLY CONTACT YOUR EYE CARE PROFESSIONAL.
All contact lens wearers must see their eye care professionals as directed. If your lenses are for extended wear, your eye care professional may prescribe more frequent visits.
Never touch the dropper tip of the container to any surface, since this may contaminate the solution. If drops turn yellow, do not use and discard immediately.
Replace cap after each use.
PRECAUTIONS:
Always wash and rinse your hands before handling your lenses.
Store at room temperature.
Keep Container tightly closed when not in use.
Use before the expiration date marked on the container and carton.
Keep this and all medications out of the reach of children.
ADVERSE REACTIONS (Problems and What To Do): The following problems may occur while wearing contact lenses:
Eye stinging, burning or itching (irritation)
Excessive watering (tearing) of the eyes
Unusual eye secretions
Redness of the eyes
Reduced sharpness of vision (visual acuity)
Blurred vision
Sensitivity to light (photophobia)
Dry eyes
If you notice any of the above problems, immediately remove and examine your lenses.
If the problems stop and the lenses appear to be undamaged, thoroughly clean, rinse and disinfect the lenses and reinsert them. If the problem continues or a lens appears to be damaged, IMMEDIATELY remove your lenses and IMMEDIATELY consult your eye care professional. Do not reinsert a damaged lens. If any of the above symptoms occur, a serious condition such as infection, corneal ulcer, neovascularization or iritis may be present. Seek immediate professional identification of the problem and treatment to avoid serious eye damage. Some users may experience temporary red steaks on the skin.
---
Directions
Placing 1 to 2 drops of VISINE® FOR CONTACTS Lubricating + Rewetting Drops on the eye followed by blinking 2 or 3 times will relieve minor irritation, discomfort and blurring which may occurring while wearing lenses
Questions? call toll-free 888-734-7648 or 215-273-8755 (collect)
Why Instacart?
Instacart delivers fresh groceries
Great Prices, from multiple stores
All your favorite local stores
Personal shoppers pick all the highest quality items for you
Delivered in as little as 2 hours
Why Instacart?
Instacart delivers fresh groceries
Great Prices, from multiple stores
All your favorite local stores
Personal shoppers pick all the highest quality items for you
Delivered in as little as 2 hours