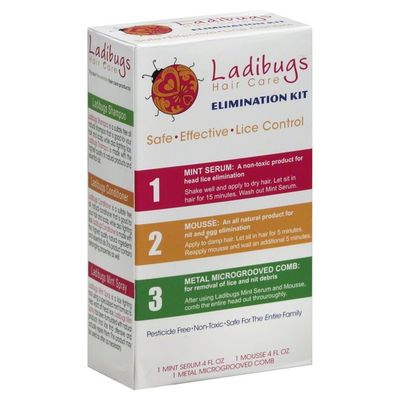 Ladibugs Lice Control, Elimination Kit
1 ct
Details
1 mint serum (4 fl oz), 1 mousse (4 fl oz), 1 metal microgrooved comb. Hair care. Safe. Effective. 1: Mint Serum: A non-toxic product for head lice elimination. shake well and apply to dry hair. Let sit in hair for 15 minutes. Wash out Mint Serum. 2. Mousse: An all natural product for nit and egg elimination. Apply to damp hair. Let sit in hair for 5 minutes. Reapply mousse and wait an additional 5 minutes. 3: Metal Microgrooved Comb: for removal of lice and nit debris. After using Ladibugs Mint Serum and Mousse, comb the entire head out thoroughly. Pesticide free. Non-toxic. Safe for the entire family. Ladibugs Mousse: This product is not sold as a pediculicide. FDA: Generally regarded as safe or food grade (GRAS) list, parts 184 and 186. 3: Ladibugs Microgrooved Comb: Anti-Slip Bands: The bands allow for better gripping and control, particularly when hands are slippery from treatments or conditioner. Advanced Laser Technology: The laser technology welding makes the Ladibugs Metal Microgrooved Comb a highly sturdy and long-lasting comb. Microgrooved Teeth: The micro grooving consists of microscopic edges that are positioned along the teeth in a tight spiral form. With thorough combing, these edges, together with the dragging action of the teeth, remove even the tiniest nit. www.ladibugshaircare.com. Our Story: We are two moms that are both registered nurses, whose daughter's acquired lice through a school outbreak. We, like many families who have had to deal with this unwelcome guest, tried the toxic shampoos, tried things that we heard would work like mayo in the hair and spent hours combing and nit-picking in our daughters' hair. We were frustrated with our options, the hours spent trying to eliminate the lice, and the lack of correct information we found from various sources. Therefore, in the parking lot of our girls' school, we decided we could create a business that would help kids, families, schools, camps and nursing homes eliminate lice in a safe and natural process that is proven to be highly effective. We are here to educate, treat and to make the experience as pleasant as it can be.
---
Ingredients
Dimethicone, Water (Aqua), Non-Bacterial, Readily Biodegradable, Enzymatic Solution Derived from Safe Yeast Strains, Ladibugs Mint Serum: Olive Oil, Peppermint Fragrance, Ladibugs Moose: Naturally Occurring, Mild Non-Ionic Blend
---
Directions
How to Use Ladibugs Mint Serum: Shake well. Ladibugs Mint Serum is recommended for use with active lice. Ladibugs Mint Serum should be used every other day in conjunction with Ladibugs Mousse & Ladibugs Metal Microgrooved Comb. 1. Shake vigorously before applying to head. 2. Apply Ladibugs Mint Serum to dry hair until completely saturated. 3. Massage into scalp and hair. 4. Leave product in for 15 minutes. 5. First apply generous amount of shampoo, then add water to wash hair. 6. Shampoo a second time if needed. 7. Follow up with Ladibugs Mousse and Ladibugs Metal Microgrooved Comb to remove lice and nits. Use responsibly as directed. How to Use Ladibugs Mousse: 1. Place a clean washcloth or other suitable material over eyes for protection. Moisten hair with warm water. 2. Apply ample amount of Ladibugs Mousse to cover and saturate moist hair. Leave on hair at least 5 minutes and do not rinse. 3. Add a second application of Ladibugs Mousse to hair and scalp, while protecting eyes with cloth. 4. Leave product on hair and scalp an additional 5 minutes. Continue to protect eyes with clean washcloth. 5. While Ladibugs Mousse is still in hair, we highly recommend using Ladibugs Metal Microgrooved Comb to comb through hair root to end. For long or thick hair, any hair conditioner may be added to assist with combing. Debris is easily removed when each section of hair is combed from the root to end. Comb each section four ways: from above, below and each side to ensure all debris is removed. 6. While protecting eyes rinse product out of hair. Use responsibly as directed.
Why Instacart?
Instacart delivers fresh groceries
Great Prices, from multiple stores
All your favorite local stores
Personal shoppers pick all the highest quality items for you
Delivered in as little as 2 hours
Why Instacart?
Instacart delivers fresh groceries
Great Prices, from multiple stores
All your favorite local stores
Personal shoppers pick all the highest quality items for you
Delivered in as little as 2 hours