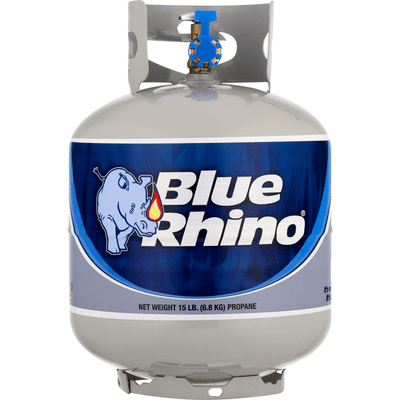 Blue Rhino Propane
15 lb
Delivery by 8:25pm
Details
It's not just propane. It's Blue Rhino. Bluerhino.com. Facebook. Twitter. Instagram. Pinterest. YouTube. Need help? 1.800.258.7466. Bluerhino.com. Find a Rhino Retailer: Text find to 75653. Follow reply instructions to find a store nearby. Text messages rates may apply or go to Bluerhino.com. Operation BBQ Relief: Official propane brand. OperationBBQRelief.org.
---
Warnings
Warning: This product can expose you to chemicals including carbon monoxide and benzene created by the combustion of propane which are known to the State of California to cause cancer, birth defects, or other reproductive harm. For more information, go to www.P65Warnings.ca.gov. Warning: Store and use tank only in an upright, vertical position. Know the odor of LP-Gas. Under certain circumstances, you may not be able to smell the odorant. If you hear, see or smell leaking LP-gas, immediately get everyone away from the tank and call the fire department. LP-Gas is heavier than air and can settle in low places while dissipating. Contact with liquid contents of tank will cause freeze burns to the skin. Do not allow children to tamper or play with tank. When not connected for use, keep tank valve turned to closed position. Do not use, store, or transport tank where it would be exposed to high temperatures. Relief valve may open allowing a large amount of flammable gas to escape. Always transport your tank in a secure well-ventilated location in your vehicle. Tank should be upright with valve turned to closed position. Tank should be taken directly to and from place of use. Do not leave unattended in any vehicle. Do not use portable propane devices in enclosed or unventilated spaces, especially while sleeping, due to the risk of Carbon Monoxide poisoning, which can be fatal. Turn th e cylinder valve handwheel to the closed position before disconnecting the valve from any device. Failure to do so may allow LP Gas to escape and cause serious injury, property damage or death. Do not operate, light or use a propane appliance within ten feet (3.05 m) of walls, structures, buildings or other combustible materials. Propane: 4 - Severe; 3 - Serious; 2 - Moderate; 1 - Slight; 0 - Minimal. NFPA Hazard Rating: 2: health hazard; 4: fire hazard; 0: reactivity. Extremely flammable gas. Heavier than air. Simple asphyxiant. Odorized to warn of its presence. Contact with liquid will cause freezing of tissue. Store container outside and keep cool (under 130 degrees F). Turn of container valve when not in use. Consult corresponding SDS for further information and instruction. Personal Protection: Goggles; gloves. Not a deposit program. No cash for empties. No refunds on unused propane. Danger: Failure to obey danger, warnings and instructions can result in damage, injury or death. For outdoor use only (*). Flammable gas under pressure. Leaking LP-gas may cause fire or explosion if ignited. Do not attempt any repair. Contact LP-Gas supplier for repair, disposal or emptying. Do not use or store cylinder in a building, garage or enclosed area. (*) Never fill an LP cylinder beyond 800% full: A fire causing death or serious injury may occur. Consumer: Do not remove, deface, or obliterate this label. Refiller: Label must be removed and tank inspected prior to refilling
---
Directions
(1) How to Connect: Attach appliance connector to tank valve. Turn clockwise. Hand tighten. Attach appliance connector to tank valve. Turn counter clockwise. Tighten with wrench. Use only in compliance with applicable codes. Read and follow appliance manufacturers' instructions. Turn off all valves on the appliance. Light appliance(s) following manufacturers' instructions. When appliance is not in use, keep tank valve closed. (2) Always Check for Leaks: Do not check for gas leaks with a match or open flame. Apply soapy water at areas marked X. Open cylinder valve. If bubble appears, close valve and have LP-Gas service person make needed repairs. Also check appliance valve and connections to make sure they do not leak before lighting appliance. Pressure relief valve. Valve threads. Cylinder. Cylinder valve and wheel. Point of connection. Liquid level indicator (Optional).
Why Instacart?
Instacart delivers fresh groceries
Great Prices, from multiple stores
All your favorite local stores
Personal shoppers pick all the highest quality items for you
Delivered in as little as 2 hours
Why Instacart?
Instacart delivers fresh groceries
Great Prices, from multiple stores
All your favorite local stores
Personal shoppers pick all the highest quality items for you
Delivered in as little as 2 hours