Tofurky
Artisan Chick'n & Apple Sausage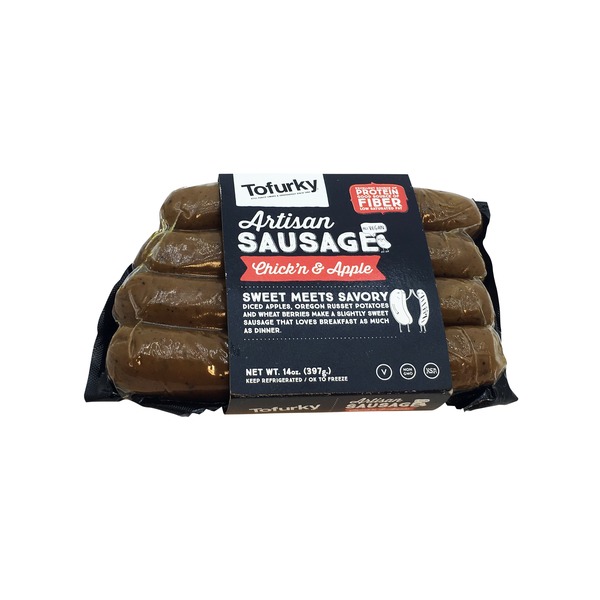 Sign up to see prices in your local store
Available in these stores:
Tofurky Artisan Chick'n & Apple Sausage
Details
Non GMO. Meat free. Proud supporter of The Humane Society of the United States. Every day we look out the window of our Hood River, Oregon Tofurky plant at bins of apples being made into fresh apple cider next door. Inspired by this, we took this local fruit and combined it with Oregon potatoes and savory vegan chicken flavor for a unique sausage taste that is out of this world. This versatile sausage is just as good served next to a stack of flapjacks or chopped and sauteed over pasta. It's so good you can serve it grilled on a bun with garlic, onions and Dijon mustard! Check out www.Tofurky.com for great sausage recipes. Vegan. 100% recycled paperboard. Made in USA.
Ingredients
Salt, Potassium Chloride, Sesame Oil, Water, Natural Smoke Flavor, Oat Fiber, Wheat Flour, Sunflower Oil, Spices, Gum Arabic, Potatoes, Molasses, Paprika, Dehydrated Apples, Vital Wheat Gluten, Lemon Juice Concentrate, Apple Juice, Garlic Puree, Wheat Berries, Natural Vegetarian Flavors, Shoyu Soy Sauce (Water, Non-Genetically Engineered Soybeans, Wheat, Salt, Culture), Expeller Pressed Non-Genetically Engineered Canola Oil, Organic Tofu (Water, Organic Soybeans, Magnesium Chloride, Calcium Chloride)
Directions
Keep refrigerated. Serving: Stovetop (recommended): Place thawed sausage (whole or chopped) in heated, lightly oiled pan and saute briefly. Add 1 tbsp water after sausage is browned and cook covered for 15 seconds. Or, place sausage in boiling water for 90 seconds. Grill: Lightly rub each thawed sausage with cooking oil and place on heated grill. Cook until hot, turning occasionally. Do not overcook! Sausages only take a short time to heat up on the grill. Or, place sausages on oiled sheet of foil with diced onions, peppers, and 2 tbsp of water or beer; wrap tightly. Throw on grill for 30 minutes, turning occasionally. Microwave: Place thawed sausage on microwavable plate and cook on high for 30 seconds. After opening, wrap tightly in plastic bag and refrigerate.
Warnings
Contains: soy, wheat.
Always refer to the actual package for the most accurate information.
Nutrition Facts
Serving Size 3.5 oz
Servings Per Container 4
Amount Per Serving

Calories From Fat 100

Calories 260
% Daily Value

18%

Total Fat 12.0 g

5%

Saturated Fat 1.0 g
Trans Fat 0.0 g

0%

Cholesterol 0 mg

24%

Sodium 580 mg

12%

Potassium 430 mg

4%

Total Carbohydrate 11 g

12%

Dietary Fiber 3 g
Sugars 4 g
Protein

58%

29 g